As a socially responsible company, Medical Properties Trust is committed to providing a challenging and dynamic work environment that engages employees and supports their professional growth and development. We do not discriminate on the basis of race, color, sex, sexual orientation, religion, national origin, citizenship, disability, age, military service or genetic information in our hiring process.

The hiring process includes having each candidate interview with numerous MPT employees in order to get the best feedback before offering any candidate a position. The company also retains the services of an experienced outside industrial psychologist to ensure a strong fit for both the company and the candidate. This has resulted in an excellent team that works well together.

The industrial psychologist also works with each employee's supervisor to tailor individual professional development goals, an important step that has been well received by each team member. Goals and achievements are assessed in annual performance reviews (and at other times, as needed) with bonuses awarded based on corporate results and individual contributions to those results.

Perhaps most importantly, MPT team members are immediately involved in major projects for the company – participating in regular conference calls with tenants, going on site visits as each new property is underwritten individually, or working on presentations for investors and industry trade shows (to cite just a few examples). And even new team members' opinions carry weight in the decision making process. The result is a fast track to significant healthcare experience, which is the foundation of the company's expertise.

Medical Properties Trust also offers a competitive benefits package and equal employment opportunities designed to help recruit and retain high quality employees, and to keep them healthy and secure, this program has contributed to MPT's high employee retention rate.
Employee benefits provided by the Company include:
• Primary Health Insurance
• Secondary Health Insurance
• Concierge Physician Fees
• Dental Coverage
• Vision Plan
• Life and Accidental Death Insurance
• Long & Short Term Disability
• 401(k) Plan (with Safe Harbor matching)
• Flexible Spending Account
• Fitness Club Dues Reimbursement
Giving Back to the Community

Medical Properties Trust supports private and public non-profit programs aimed at improving community and public health through financial support and volunteer commitment.
Through its Charity and Community Support Committee, which is comprised of a cross section of employees, MPT focuses its charitable efforts on the following priorities:
1. Non-profit organizations;
2. Health, social, educational and community organizations;
3. Events and programs for the betterment of the community;
4. Community support; and
5. Commemorations and memorials.
A Giving Program Guided by MPT Employees

The committee meets regularly to review requests from community organizations and make recommendations to MPT's executive team. Over the years, MPT's corporate contributions have grown as the company has grown, increasing from $3,500 in 2005, to more than $1 million in 2015.
During this period, MPT has:
• Contributed to a wide array of local, state and national charities, as well as to some abroad, as the company has expanded to Western Europe;
• Contributed the lead gift to the Community Foundation of Alabama to launch the Alabama Tornado Recovery Fund and secured a six-figure matching gift to aid hundreds of families;
• Sponsored a fundraising event for the past six years to benefit pediatric cancer patients at Children's (Hospital) of Alabama and to support cancer research at the Alabama Center for Childhood Cancer and Blood Disorders;
• Built a KaBOOM! playground in an underprivileged urban neighborhood to benefit more than 1,400 children;
• Sponsored the American Lung Association of Alabama's inaugural event, "Birmingham Turquoise Social," in May 2016, which honored MPT's First Lady, Melinda Aldag, a lung cancer survivor.
• Contributed more than $1 million to more than 120 different organizations during 2015, including:
A+ Education Partnership
Alabama Center for Childhood Cancer and Blood Disorders
Alabama Council on Economic Education
Alabama Kidney Foundation
Alabama Public Television
Alabama Shakespeare Festival
Alabama Symphony Orchestra
Alzheimer's of Central Alabama
American Cancer Society
American Diabetes Association
American Heart Association
American Red Cross
Birmingham Museum of Art
Birmingham Zoo
Boy Scouts of America
Cahaba River Society
Camp Fire USA
Camp Smile-A-Mile
Childcare Resources
Children's Aid Society
Children's Dance Foundation
Children's of Alabama
Cornerstone School
Crippled Children's Foundation
The Exceptional Foundation
First Light
Greater Birmingham Humane Society
Holy Family Cristo Rey Catholic High School
IMPACT Alabama
KaBOOM!
Magic Moments
Make-A-Wish Alabama
March of Dimes – Signature Chefs
McWane Science Center
Mitchell's Place
Lakeshore Foundation
Racing for Children's
Ronald McDonald House Charities
Salvation Army
Special Equestrians
UAB Athletics
UAB Center for Healthy Aging
UAB Collat School of Business
UAB Comprehensive Cancer Center
UAB Comprehensive Diabetes Center
United Way of Central Alabama
Vulcan Park Foundation
Woodlawn Effect
YWCA
…and 75 other deserving organizations.
Special Events and Program Advertising
As part of its giving back program, MPT sponsors a series of special events in the community. Following is a list of 2016 events for which MPT has served (or will be serving) as the Presenting Sponsor:
2016 Presenting Sponsorships
• Alabama Symphony's Classical Edge Series (March 3 and April 7)
• Children's of Alabama – Racing for Children's (April 23)
• American Lung Association's Turquoise Social (May 12)
• American Diabetes Association's Tour de Cure (August 20)
• March of Dimes – Signature Chefs (September 22)
• Birmingham Museum of Art – Family Festivals (2016-2017)
• Birmingham United Soccer Association's "Birmingham Bash"/Fall Tournament (October 1 and 2), benefitting Restoration Academy and the Woodlawn Initiative
Non-Profit Program Advertising (on-going)
MPT also advertises in many non-profit programs. A recent ad for Ronald McDonald House Charities of Alabama included a headline that sums up both the company's growth and the growing impact of its corporate philanthropy – "Making a World of Difference."

In October 2015, several dozen of MPT employees and family members joined more than a hundred other volunteers (many of which MPT helped recruit) to build a new playground for South Hampton K-8 School in Birmingham, Alabama – in a single day!
MPT partnered on the project with KaBOOM!, a Washington, D.C.-based non-profit that has built thousands of playgrounds across the U.S. in deserving neighborhoods. Months of preparation were involved as MPT Charity Committee representatives met with teachers, parents, school officials and community leaders to lay careful plans. Even the Mayor of Birmingham and his office were involved, but the chief playground designers were the school children themselves, who sketched what they envisioned on large sheets, labeled "My Dream Playground," and shared them with the group.
Under KaBOOM!'s guidance, the adult team members interpreted the kids' drawings to develop three different playground designs. Then, the school picked 'the perfect one' to best fulfill the children's dreams.
Playground Build Day drew 150 volunteers to the school site by 8:30 a.m. to begin a hard day's work – mixing and hauling concrete, assembling slides, bridges and climbing walls, and literally moving mountains of mulch by hand to form the playground surface. One team built an outdoor classroom while another assembled a gazebo filled with bright flowers.
Three days later – after the concrete footings for the playground equipment had fully cured – the kids of South Hampton were allowed to storm the castle of their own perfect playground. And then, the real fun began.

In 2015, Medical Properties Trust became part of community initiative dedicated to breaking the cycle of poverty in the Woodlawn community of Birmingham. As part of the Purpose Built Communities network, "Woodlawn United" focuses on three areas: 1) high-quality mixed income housing, 2) a cradle-to-college education pipeline and 3) community wellness.
Through its multi-year financial commitment, MPT has joined other community-minded companies, foundations and individuals to raise more than $7 million to support this holistic revitalization effort. A part of that will fund a 16,000 sq.ft. child development center designed to serve 100 children, ages 0 to 3.

MPT stepped forward six years ago to sponsor the first "Racing for Children's" – to benefit Children's (Hospital) of Alabama and the Alabama Center for Childhood Cancer and Blood Disorders. The company has expanded its support every year since to include the "Patient Experience," which brings young cancer patients to Barber Motorsports Park throughout the year for "hot laps" around the track, and VIP treatment during the annual Honda Indy of Alabama race weekend that attracts more than 80,000 spectators.
MPT's support has grown each year and the company has become the Presenting Sponsor of this unique charitable cause. To date, Racing for Children's has raised more than $850,000 and funded an additional cancer researcher to work with doctors and scientists at the Center to develop future cancer cures.
March of Dimes "Signature Chefs"

For the past four years, MPT has played a significant role in the March of Dimes' "Signature Chefs" event. MPT's Executive Vice President and Chief Operating Officer Emmett McLean agreed to serve as the 2012 event chairman, and his efforts helped the organization surpass $100,000 in contributions for the first time. He then volunteered to lead the charge the following year as the March of Dimes celebrated its 75th anniversary and MPT celebrated its 10th anniversary. And the fundraising effort exceeded six figures again.
Recognized as "event chairman emeritus," McLean handed the reins to his successor, and MPT has continued its support as both the Presenting Sponsor and the "Fund the Mission" sponsor to prevent premature births and help families facing that challenge.

In honor or Ed Aldag's 50th birthday and MPT's 10th anniversary, the employees of MPT came together secretly in 2013 to make a special contribution to Magic Moments. Through their personal contributions, they raised more than enough money to fund a "magic moment" for a child with cancer – to visit Disneyworld.
MPT had already contributed a Magic Moments experience for another child, and has continued to do so each year since.
Alabama Tour de Cure + Step Out Walk to Stop Diabetes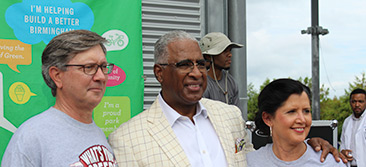 Medical Properties Trust stepped up as Presenting Sponsor of the American Diabetes Association's 2016 "Tour de Cure" and "Step Out: Walk to Stop Diabetes" at Railroad Park on August 20th, and MPT employees got involved in a big way.
MPT formed three corporate teams to participate in the one-mile and three-mile walks and cycling events that raised more than $200,000 to support research, education and advocacy efforts to cure diabetes. The disease afflicts nearly 10 percent of Americans and many across Alabama.
MPT's three cleverly named teams – "Team Sticky Fingers," "Blood Sugar Magic," and "diaBEATERS" – led all other corporate teams in funds raised. And Sarah Silverstein, who works with Tim Berryman in MPT's Investor Relations Department, led all individual fundraisers.
More than 40 MPT employees took part in 2016 event – including two cyclists (Jodi Jackson of Administration, for 28 miles; and Jason Frey of Asset Management and Underwriting, for 100 miles).
Birmingham Museum of Art's Family Festival Series
Medical Properties Trust is serving as Presenting Sponsor of the Birmingham Museum of Art's Family Festival Series for 2016-2017. The quarterly festivals enable families to interact with museum objects from seven continents spanning 5,000 years of civilization.
BMA's Hispanic Heritage on September 17th will highlight the Museum's Pre-Columbian Art collection and include live performances, scholarly talks, local food and numerous art-making activities.
BMA's Harvest Festival on November 19th will focus the Fall season as it is celebrated across multiple cultures in food, art and music.
BMA's Holi (Indian Festival of Colors) on March 11th, 2017, presented in conjunction with the BMA's Indian Cultural Society, will celebrate Spring through classical Indian and Bollywood style dancing and music, food, storytelling and art making. A special focal point will be the Museum's Asian Art collection, one of the largest in the Southeast.
BMA's African Heritage on June 17th, 2017, will celebrate African culture and the Museum's new African Art gallery in partnership with the Ghana Sister City Committee. Art-making activities, dancing demonstrations and authentic music will bring the sights, sounds and aromas of Africa to Birmingham.
University of Alabama at Birmingham

In 2015, MPT stepped forward with a pledge of $1 million to serve as the lead gift for the University of Alabama at Birmingham's Collat School of Business, where MPT Chairman, President and CEO Ed Aldag has served as a guest lecturer.
The auditorium in the new building will be named for MPT and the gift has helped the business school attract other significant contributions – including a second pledge of $1 million from MPT.
The company has also supported other important endeavors of colleges and universities in its area, such as Birmingham-Southern College and the University of Alabama (at the original Tuscaloosa campus).
Aldag Business Plan Competition at UA
In addition to MPT's corporate contributions, Ed Aldag and his wife, Melinda, often make personal contributions to their community and to their alma mater, the University of Alabama. A recent example is the Edward K. Aldag, Jr. Business Plan Competition that they helped permanently endow with their own funds.
Each year, under this program, three student teams from the Culverhouse College of Commerce receive a combination of start-up capital and professional in-kind services worth a total of $50,000 – to launch their own entrepreneurial ventures.
The Aldags not only believe in and support the idea of giving back to the community, they live it. And their personal example of philanthropy augments the impact of MPT's corporate contributions.